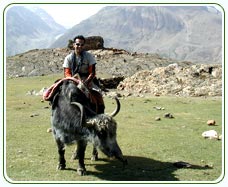 Get set to embark on a safari with a difference. You must have heard about Jeep Safari, Camel Safari and Horse Safari, but here we are offering you a Yak Safari. Yes, it is Yak Safari! A trip on the back of Yak, moving through the craggy trails, in the midst of angelic beauty of Sikkim, actually addresses the appreciation of every person. Organized in different parts of Sikkim, Yak Safari is truly an unforgettable and one of its kind experience.
The area near Dzongri and Tsomgo Lake are popular trails amongst tourists. The Yaks have been domesticated since centuries in Sikkim. In the recent years, the animal has been used to create an adventure sport for people. The tourists from far-off lands come here to enjoy this tranquil ride on a Yak. Moreover, in the hoard of other adventure sports, Yak Safari is a sport that is enjoyed by people of every age-group. Be it a child or an older person, Yak Safari can become an exciting voyage for each one.
Another interesting fact about the Yak is that it is found in alpine zones, where the low temperature is just ideal to ensemble the requirements of this mammal. In order to enjoy Yak Safari, you have to put your name down for it in advance since it is difficult to get the ride during the peak seasons. It is for sure that once you take this safari, it would really become a memorable part of your reminiscences of your trip to Sikkim.