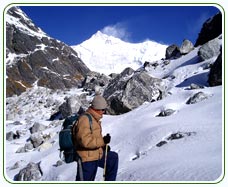 Trekking through dense forests, craggy trails and frosty waters in the mountainous terrain really inspires one's awe. The tracks definitely would not recall roads of metropolitan cities, but an electrifying journey to experience the charismatic appeal of the natural environs. Sikkim has all this and much more waiting for you to come and explore. If truth be told, trekking in Sikkim is a really nice idea, where you can actually observe the lofty mountains, serene waters, fragrant orchards, snowy peaks, flora and fauna.
It is better to plan your routes before embarking any trek, since you need to have a clear idea about where you are going so as not to be misled. For planning your trekking itinerary, you can rely on bonafide tourist agencies or tourism deptt of Sikkim. The trekking routes can be tailored as per your preference, considering in mind the elevation and weather conditions of the places. If you have never tried trekking, there is no need to panic, since no technical climbing experience is required for the treks between 6000 and 14,000 feet. The gear and equipments from camping as well as trekking are available on rent from the deptt of tourism.
Trekking Routes
In Sikkim, there are many trek routes that can satisfy your taste for adventure. The Kanchenjunga Trek is regarded as the most beautiful trek route, where you can spot the pristine beauty of nature. Here, calm lakes would be a perfect company for you in the trekking expedition. Even a trek to Bakhim is no less enchanting than the Kanchenjunga trek. Encompassing different varieties of rhododendrons, this trek looks lively with the presence of colorful flowers.
Dzongri offers another trek route that elevates the trekker to 3983 meters and provides a heavenly view of the Kanchenjunga. In the North, you can go for Green Lake Trek, which falls certainly in the most beautiful district of Sikkim. Here, snowy peaks and striking natural environs will definitely mesmerize you with their celestial charm. Yumthang is perhaps the only trek that is complete in its own. The stunning valley of flowers along with hot springs christens to be one of the most beautiful places on the earth.
In the West, you can trek the wild woods of the imposing Himalayas. Continuing the journey, dense forests of Rhododendron will come across your sight. For trekking, Yuksom is regarded as an ideal take-off point. The Himalayan Mountaineering Institute of Darjeeling consistently uses this point as a centre of climbing and trekking tours. Yoksum, Guicha La, Damthang, Tendong Hill, Maenam Hill, Namchi, Versary and Singalila are other trekking destinations to consider.
Ideal Time for Trekking in Sikkim
The best time to go for trekking is from Mid-February to Late-May and from October to Mid-December. Between the months of June and September, trekking is not feasible as Sikkim is prone to landslides in monsoons. However, the months between December and February are not recommended due to frigid temperature.
Trekking Permits
Foreigners are required to get trekking permits for most of the routes in Sikkim. The requisite permits can be obtained from the offices of Sikkim tourism at Delhi, Kolkata and Siliguri. The permit restrictions specify that trekkers are allowed only to follow well-beaten trails and within a limited period of time. It is recommended for foreigners to trek in a group with a minimum of two people. The trekking permit is given only to those groups, who are registered by an authentic agency.