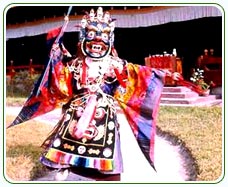 Phang Lhabsol is an exceptional festival that is celebrated in Sikkim. Phang Lhabsol festival is observed on the 15th day of the 7th month of Tibetan Calendar Year. It falls somewhere in August end, as per the English Calendar. Phang Lhabsol commemorates the mighty snowy peak of Kanchenjunga or Khangchendzonga, the guardian deity of Sikkim, for her commendable unifying powers.
The literal meaning of 'Phang' means 'the witness'. Actually, the day of Phang Lhabsol also acts as the witness of blood brotherhood treaty that was signed between the Lepchas and the Bhutias. At that time, the local deities were invoked to witness the event, when Khye Bumsa and Tetong Tek signed the treaty on behalf of their communities. The festival is observed with much festivity and gala celebrations in the state.
At this juncture, the guardian deity is represented by masked Lamas (Monks), who paint their face red, ride a snow lion and adorn a crown of five skulls. During the 'Chaams', jesters (Atchars) roam clowning around to lighten the solemn nature of dance. This dance (Pang-Toed) is acclaimed to be choreographed by Chakdor Namgyal, who was the third Chogyal of Sikkim. People participate in this festival earnestly to celebrate the occasion.