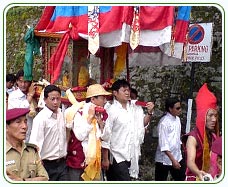 Saga Dawa is a highly revered festival of the Buddhists. Saga Dawa Festival originated in Tibet, perhaps the influence of the Buddhists in Sikkim marks a grand celebration of event in the state. Regarded as the Triple Blessed Festival, Saga Dawa is also considered as the holiest Buddhist festival. Saga Dawa is said to be three-fold-auspicious as it commemorates Lord's birth, enlightenment and salvation from this world. This festive day falls on the full moon day of Buddhist lunar calendar.
Actually, as per the English calendar, this festival falls either in the May end or early June. It is believed that on this day, Lord Buddha took birth in different years of his life. He left the corporeal world after attaining 'Nirvana' or enlightenment. The highlight of Saga Dawa Festival is marked by the procession, in which holy books comprising the teachings of Lord Buddha are carried, from Tsuk-La-Khang Monastery through the streets of Gangtok.
Saga Dawa reminds the life of Lord Buddha, when he was born in Lumbini in Nepal. Early in his life, he realized that worldly pleasures are short-lived and he has to look for the ultimate truth. At the age of 35, he attained 'Nirvana', after meditating for years in Sarnath (Uttar Pradesh). Buddha, the enlightened one, left this world at Kusinara, when he became 81. Saga Dawa marks the arrival of the mystical Lord, who eventually went into spiritual ecstasy.