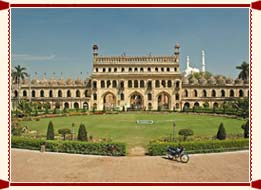 Bada Imambara is a famous monument of Lucknow that has historical, cultural and heritage importance. Bada Imambara complex was commissioned by the then Nawab of Awadh, Asaf -ud-Daula in the year 1784. The complex also includes the large Asfi mosque, the Bhul-Bhulayah (the labyrinth) and a summer palace with running water.
It is important to know that Imambara are actually the replicas of tombs dedicated to the Holy Prophet (PBUH) and his family members. His family members are known as Ahl-ul-Bait. Imams are the religious heads of Shiite Islam who are connected to Prophet by blood. Most of the original tombs are located in different towns of Iraq and some in Saudi Arabia and Iran. Although all the Muslims love Prophet and his family members, Shiite Muslims have a special zeal for them. Imambara have a special place in the hearts of Shiite Muslims and is the seat of most of the meetings, gatherings and Azadari congregation. Bada Imambara is also the venue for annual Mohharum gathering that is staged to commemorate and lament the martyr hood of Imam Hussein, the grandson of Prophet Muhammad.
Like its junior cousin Chota Imambara, Bada Imambara was also built under the 'Food For Work' program initiated by the then Nawab of Awadh named Asad-ud-Daula. The primary objective in embarking on this grandiose project was to provide employment for people in the region who were devastated by persistent famines. The chronicles of History maintain that the famine continued for over a decade and the construction of the building continued for this time.
The architecture of Bada Imambara reflects the era when the ornamented Mughal design was on its pinnacle. In fact, it is the last puritan Indo-Islamic architecture and doesn't incorporate any European elements such as use of iron and spires. The sanctum of Imambara consists of a large vaulted central chamber containing the tomb of Asaf-ud-Daula. The hall that is 170 feet long and 55 feet wide stands 50 feet from the ground. It is interesting to note that it has no beams supporting the ceiling. In fact Bada Imambara is one of the largest arched constructions of its kind in the world.
There are as many as eight surrounding chambers built to different roof heights, permitting the space above these to be reconstructed as a three-dimensional labyrinth with passages interconnecting with each other through 489 identical doorways. This part of the building, known as is a popular attraction, and often the whole complex may be referred to as the Bhul-Bhulayah. It is possibly the only existing maze in India and came about unintentionally to support the weight of the building, constructed on marshy land.