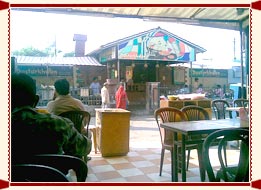 Lucknow being an important tourist destination has no dearth of eateries. From the posh looking star grade restaurants to fast food giants, the city seems to have all. Apart from that, the street-food culture of Lucknow has fewer parallels in Asia. Nearly all the star grade hotels have good in-house restaurants that serve a range of food to the tourists. So it's entirely up to you to choose your eatery as per your taste and budget.
The city of Lucknow spoils the taste buds of its visitors. The major delights in the city range from Kabobs, Biryani to Pasta and Tacos. The real taste of Lucknow is not a slave to swanky 5-star restaurant; rather it can be savored right on the streets. Names like Idris Biryani Wala at Patanala Chowk, Rahim Kulcha-Nihari eatery at Chowk; Tunda Kabobs at Akbari Gate are now part and parcel of the city.
Other pocket friendly eateries such as Naushejaan, Sakhawat, Daal mein Kaala, Dasterkhwan are counted among the best in their lot not only in India but also in whole of South Asia. For the swanky white-collar types, Kakori Kabobs at the Oudhyana, Taj Residency, the Ghazal soaked yummy evening at Falaknuma in Clarks Awadh or the sizzle delights at Pavilion at Park Inn are best possible options.