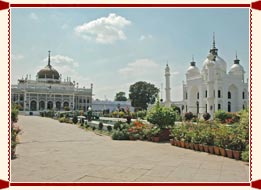 Chota Imambara is the landmark of Lucknow. This monument is also known as Husseinabad Imambara in Lucknow as this place was the office of the erstwhile Husseinabad trust that owned the city once. Chota Imambara is an imposing monument located in the Old City area of Lucknow close to Chowk.
The story of Imambara is no less interesting than the Imambara itself. It happened once in early 19th century that a persistent famine engulfed Oudh. That famine broke the backs of lower strata and agriculture labors. The then Nawab of Awadh named Muhammad Ali Shah commissioned Chota Imambara under 'Food for Work' program initiated to bring respite for the city populace. The monument that was erected in order to serve as the mausoleum for Muhammad Ali Shah got completed in the year 1837. Chota Imambara is also sometimes referred as 'The Palace of Light' in British History Chronicles because its decorations during festive season.
The building has been designed on the Charbagh pattern with a stream running through the middle of the garden. The design pattern used in the monument is Indo-Islamic in nature but has rather a generous dose of Persian crafts. The interiors have some very good Arabic calligraphy and glassworks. The chandeliers used to decorate the interior of this building were brought from Belgium. Thousands of laborers worked on the project to gain famine relief.
Chota Imambara has a gilded white dome and several turrets and minarets. The tombs of Muhammad Ali Shah and other members of his family are inside the Imambara itself. Outside the Imambara is the watchtower called Satkhanda or 'tower of seven stories'. It is interesting to know that though it is called so, it has only four stories as the construction of the tower was abandoned when Ali Shah died.