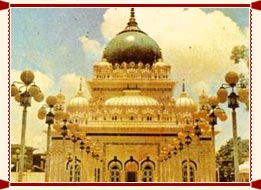 There are lots of excursion options around Lucknow. While some of these places such as Naimisaranya and Dewa Sharif are a single day trip, others like Dudhwa National Park and Nawabganj Bird Sanctuary are marvelous weekend destination. Following are some of the most favorite excursion destinations around Lucknow: -
Dudhwa National Park
Dudhwa National Park is stretched in an area across 810 square kilometers. The core area of the park itself is spanned around 650 square Kilometers. Although Dudhwa National Park has a range of animal as well as avian population, the park is famous as a perfect habitat for Swamp deer and Tigers. Dudhwa National Park was declared a national park in the year 1958. In the due course, keeping in mind its importance, it was first converted to a wildlife sanctuary in the year 1977 and was later declared a Project Tiger reserve in the year 1988.
Dewa Sharif
Dewa Sharif is a pilgrimage town that is situated just 40 odd Kilometers from Lucknow and 12 kilometers from the district headquarter of Barabanki. This pilgrimage site has a special place in the history of Awadh because of its efforts towards secularism in an otherwise communally volatile province. The place is renowned as the birthplace of Hajji Waris Ali Shah who was to influence the lives of many generations of people with his message of universal love for humanity.
Nawabganj Bird Sanctuary
Nawabganj Bird Sanctuary is not only the best available Bird Sanctuary in Uttar Pradesh but also one of the most prominent in whole of India. Nawabganj Bird Sanctuary is a great excursion destination around Lucknow. Although Nawabganj Sanctuary is a small bird Sanctuary that is spread across 4 square kilometers, it attracts lots of migratory birds during winters. The sanctuary is precisely confined to an area that encloses the lake. This is a natural lake and has a very beautiful environ around it thus it attracts a lot of avian population
Naimisaranya
It is said that Naimisaranya was the place where Bhagavatam was spoken. It is also said that a pilgrimage to Badrinath and Kedarnath is incomplete without a visit to Naimisaranya. In the Mahabharata it is said, "Anyone who fasts, prays, and attains perfection at Naimisaranya finds happiness in all the worlds."