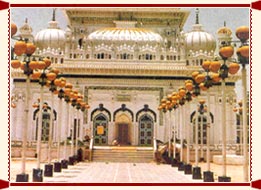 Dewa Sharif is a pilgrimage town that is situated just 40 odd Kilometers from Lucknow and 12 kilometers from the district headquarter of Barabanki. This pilgrimage site has a special place in the history of Awadh because of its efforts towards secularism in an otherwise communally volatile province. The place is renowned as the birthplace of Hajji Waris Ali Shah who was to influence the lives of many generations of people with his message of universal love for humanity.
Hajji Waris Ali Shah came of a family of Hussein Syed and was born in the first quarter of the 19th century. His father Syed Qurban Ali Shah died in his early childhood. It is heart-warming to know that both Hindus as well as Muslims held him in high esteem and regard him as a perfect Sufi and a follower of Vedanta. Khwaza Waris Shah left for his heavenly abode on 7th April 1905. He was buried at the spot where he died. Later a splendid monument erected in his memory by some of his devoted followers, both Hindus and Muslims, to mark the place. Every year Urs is held at the sacred tomb in the month of October-November.
A big fair known by the name 'Dewa Mela ' is held to commemorate the Saints. Pilgrims from all over Uttar Pradesh and India come to pay their homage to the great Sufi Saints, Hajji Waris Ali Shah and his father Qurban Ali Shah. A big cattle market is the highlight of the Fair. Both Government of Uttar Pradesh as well as State Waqf Board organizes number of cultural programs during the Mela. Among others, it includes an All India Mushaira, Kavi Sammelan, Music performances, Manas Sammelan, Seeratun Nabi etc. The place also offers a good range of handicrafts for the tourists. A brilliant display of Fireworks marks the conclusion of the 10 days Fair.