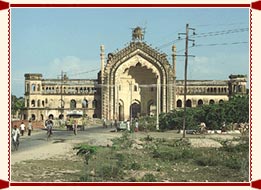 Rumi Darwaza is one of the most impressive gateways not only in Lucknow or India but also the whole world. The gateway lays Northwest of Bada Imambara. It is interesting to note that Nawab Asaf-ud-Daula, like the Bada Imambara, also commissioned Rumi Darwaza. Both were commissioned under the 'Food for Work' program initiated by the Nawab to bring respite to the city populace that was suffering from famine.
The construction of Rumi Darwaza was completed in the year 1784. This impressive gateway is also sometimes referred as Turkish Gateway in the British historical sources. The gate is said to represent the heart and soul of the Awadh architecture when it was at its pinnacle. The gateway that stands 60 feet tall was modeled on the gateways of the then Constantinople or Modern Istanbul. It is actually a replica of an ancient portal at Constantinople. Its uppermost part consists of an eight faceted cenotaph that can be approached by a staircase.
Interestingly the name Rumi Darwaza has been derived from Persian 'Rumi' that means Rome. Rome was also applied to the city of Constantinople because of the fact that it was earlier called Byzantium and was the capital of the 'Eastern Roman Empire' that was later vanquished by the Turks. The landscape around the gate was once very beautiful. In fact this was once the entrance to the walled city area of Lucknow. The gateway has been mentioned in various sources but the most famous one is considered to be the report published by one George Russell who worked as a reporter of The New York Times in mid 19th century. Russell, who accompanied the victorious British army of 1857 Mutiny had called the stretch of road from Rumi Darwaza to Chattar Manzil the most beautiful and spectacular cityscape that he had ever seen, better than Rome, Paris, London or Constantinople.