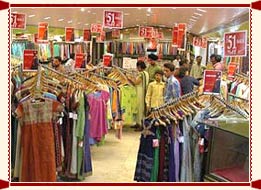 Lucknow is an old style shopper's paradise. The city is fit for those who hate Hyper-Malls and still believe that the art of shopping is a divine gifted quality that can only be mastered upon in the congested alleys of old bazaars and not in some air-conditioned malls located in a plush locality. Lucknow has a number of sites to go shopping. Blended in history, these shopping places also are used as the popular means of passing time and lazy strolling. This does not come as a surprise for a city that is not only famous for its lethargy but also have a sense of pride over it.
The most favored and flocked shopping destinations of the city are located in old Lucknow area. Among them, Hazrat Gunj (named after Begum Hazrat Mahal) is most frequented. Hazrat Gung is actually a fashionable bazaar that overflows with shops and restaurants. Strolling leisurely in Hazrat Gunj and stopping for a bit of window-shopping or meeting friends at your favorite corner is a popular pastime here.
Aminabad is considered not only the busiest market in the city but is also counted among the top bazaars in India in terms of trade volume. You will find each and everything under its roof. Nevertheless Aminabad is famous for jewelry and pickle shops. Chowk in old Lucknow is also considered a major market. The area is best to pick up Chikankari cloths and antique pieces. While doing the rounds of the shops, a visit to Nakhas, the Sunday market, is obligatory. A colorful, noisy pavement bazaar, it is a veritable storehouse of antiques and curios. The must buys in Nakhas are antique Paandan, Khaasdan and all kinds of other such charming objects d'art. Nakhas also has a famous bird market.