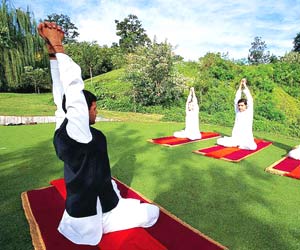 Haridwar, considered to be blessed by the Hindu Trinity of Lord Brahma, Lord Vishnu and Lord Mahesh (Shiva), is one of the most sacred cities in India. It is home to Har ki Pauri, the bathing ghat where river Ganga is said to rid people of all their sins, just by taking a dip in its waters. Then, there are a large number of temples in the city, tracing their roots to centuries ago. In case you have planned a trip to the city in the coming future, know what to do and see therein, through the information provided in the lines below.
Activities to Do in Haridwar
Pilgrimage
Haridwar is a holy city of India, where people come from all across the globe, to take a dip in the holy waters of the Ganges (at Har ki Paudi) and get rid of their sins. Apart from that, the city is also home to the famous Mansa Devi Temple, situated atop the Bilwa Parvat, which is dedicated to Goddess Mansa, the wife of Nag Vasuki and the brainchild of Saint Kashyap. Then, there is the Chandi Devi Temple, considered to be one of the Shaktipeeths of North India. In Haridwar, pilgrims also make sure to pay obeisance at Daksha Mahadev Temple, dedicated to Lord Shiva.
Yoga & Meditation
Apart from pilgrimage purposes, there is one another reason why people flock to Haridwar and that is yoga and meditation. There are a number of ashrams in the city, where qualified gurus take classes in yoga and meditation. People come here from the various parts of the world, to learn yoga and lead a healthy and spiritual life. Many of them move towards Rishikesh as well, after staying in Haridwar, to deepen their knowledge of yoga and meditation, by staying in the renowned ashrams located at the Himalayan foothills.