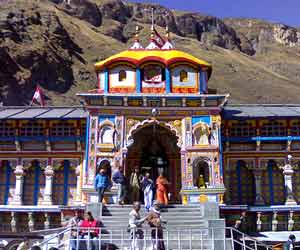 Badrinath Temple is considered the holiest of the Char Dham Hindu pilgrimage in Uttarakhand. It is delicately placed between the mountains of Nar and Narayan with River Alaknanda flowing peacefully beside it. It is known as Badrinath since the entire region is covered with Badri trees (Indian Jujube).
The temple and the town are situated at an altitude of 3,133 meters above sea level. The present temple was constructed approximately two centuries ago by Garhwal Kings. The temple has three parts- Garbha Griha (the sanctum sanctorum), Darshan Mandap (for pujas) and Shobha Mandap (for devotees to assemble).
Location
Badrinath is located about 301 kms north of Rishikesh in Chamoli district of Uttarakhand.
Legends
Badrinath is talked about in the Hindu scriptures as Badari or Badarikasram. This place is consecrated to Vishnu and particularly to Vishnu's dual form of Nara-Narayana. Another legend has it that when Goddess Ganga, the celestial river, was appealed by Bhagiratha to come down to Earth and help suffering humanity, the Earth was not capable to endure the power of her plunge. Consequently Ganga was divided into twelve sacred waterways, Alaknanda (in Badrinath) being one of them.
It later became the abode of Lord Vishnu or Badrinath when he performed penance here and Ma Lakshmi took the form of Badri or Indian Jujube to provide sustenance to him. The mountains around Badrinath are mentioned in the Mahabharata as Swargarohini, the mount from where the Pandavas ascended into heaven. Just four kms from Badrinath is the Mana cave in which Ved Vyas, it is said, wrote the Mahabharata.
Temple
The temple is just about 50 ft (15 m) tall with a petite cupola on top, enclosed with a gold gilt roof. The facade has been assembled with stone and has arched windows; a wide flight of stairs leads up to a tall, arched main entrance leading to the sanctum sanctorum of the god. This enterance is joined with the highly ornate assembly hall with carved elephants and intricate shapes. The temple also has hot Sulphur springs with medicinal properties. Numerous pilgrims believe it as a prerequisite to cleanse themselves in the springs before calling on the temple. These Sulphur springs have a year-round constant temperature of 45º C.
How To Reach
Badrinath is connected by motorable roads with other major destinations of the region. To reach Badrinath by road, one has to take NH 58 from Rishikesh via Devprayag, Rudraprayag, Karnaprayag, Nand Prayag, Chamoli, Joshimath and Govindghat. From Rishikesh, Badrinath is 298 Km while from Joshimath, it is 48 Km.