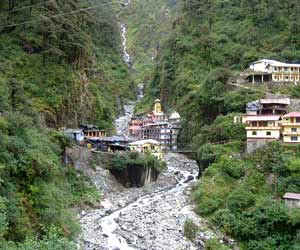 Yamunotri is the starting point of the holy River Yamuna. It is the westernmost shrine in the Garhwal range of the Himalayas, balanced on the borders of Bandar-Poonch Parvat. The main attraction at Yamunotri is the temple dedicated to Goddess Yamuna and the holy thermal Sulphur springs, almost 7 km away at Jankichatti. The actual source of the river is a frozen lake (Sapt Rishi Kund) and glacier called the Champasar Glacier, situated on the Kalind Mountain, approximately a kilometer from the Sulphur springs. Since the route to the glacier is arduous and almost unapproachable for common pilgrims, they offer 'Puja' in the temple itself.
Location
The Yamunotri temple is located in the Uttarakashi district of Uttarakhand. The temple is located about ten kms trek from the town of Hanuman Chatti, with a break in Janaki Chatti.
Best Time to Visit
The Yamunotri temple opens on the auspicious day of the Akshya Tritiya, which usually falls during the last week of April or first week of May. The temple and the town close down due to extremely heavy snowfall on the blessed day of Diwali (in mid October or first week of November). The region around Yamunotri remains cool even during summers. The winters are snow-bound and temperatures fall below 0º C. One is advised to carry light or heavy woolens depending on the time of visit.
Myths & Legends
According to a legend, Sage Asit Muni had his hermitage here. Throughout his life he bathed daily in the waters of both Ganga and Yamuna. Gradually, unable to go to Gangotri during his old age, a stream of Ganga appeared opposite Yamunotri for him. Another legend says that Yamuna's supposed frivolousness was due to her mother's inability to look at Yamuna's father, Lord Surya, in the eye due to his tremendous radiance. It is also said that if one bathes in the waters of Yamuna, the person ceases to die a painful death since Yamuna is the sister of Yama, the lord of death.
How To Reach
Yamunotri can be reached on foot or on a pony from Janaki Chatti. It takes about 2 1/2 hours to reach Yamunotri on a pony. During bad weather, buses generally don't reach Janaki Chatti and one has to get down at a place called Sayana Chatti. From Sayana Chatti, regular Jeep services to Janaki Chatti are available a reasonable prices.