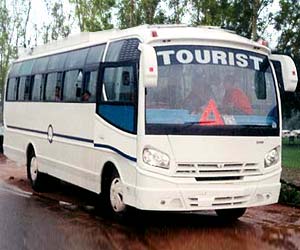 More than a learning center, Shantiniketan has fast become a popular getaway from Kolkata. With the number of curious visitors increasing each year, Shantiniketan truly proves that it is place not to be missed out. The place has been primarily known for the Viswabharati University, founded by Nobel Laureate Rabindranath Tagore. The vast lush green campus grounds, open-air classes and the peaceful environment are just few reasons to attract enough visitors towards it. With endless quiet and calm spots, you are sure to find difficulty in choosing the best place for meditation. The beautiful Shantiniketan is easily connected via air, rail and road transport making it a must weekend getaway. read on to get detailed information about how to reach Shantiniketan.
Traveling To Shantiniketan
By Air
The Kolkata airport, located at a distance of 213 km serves as the nearest airport to Shantiniketan. Major Indian flights ply to and from Kolkata on a daily basis. The journey from Kolkata to Shantiniketan has lots to offer its travelers, along with its picturesque views.
By Rail
The nearest railway link connecting this popular attraction to other parts of India is Bolpur that is 2 km from Shantiniketan. Bolpur is easily connected to Howrah through Howrah-Bolpur Shantiniketan Express, Howrah-Jamalpur Express, Kanchenjunga Express, Vishwabharati Fast Passenger, Shantiniketan Express, Danapur Fast Passenger and Tarapith Passenger.
By Road
People, who are adventurous, can hop on a bus from Kolkata and ride down to Shantiniketan exploring the lush greens on its way. Deluxe buses are easily available from Kolkata (213 km), Durgapur (56 km) and Sarnath (197 km) at regular intervals. You can also hire a tourist car or bus.