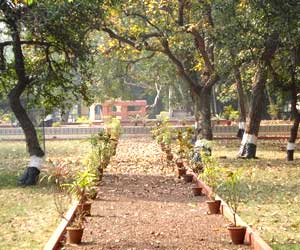 Location:
West Bengal
Summer Temperature:
Max: 39°C; Min: 32°C
Winter Temperature:
Max: 16°C; Min: 12°C
Best Time to Visit:
October to March
A place where cultures of the East and West meet and mingle, Shantiniketan is a university town situated on the outskirts of Kolkata. Originally established as an ashram and then an open-air school, Shantiniketan has gone ahead from its learning center image. Renowned across the world for a number of centers and colleges, Shantiniketan has more for its visitors to explore. Above all, the amazing temperature that surrounds the place makes it worth visiting round the year. The summers last from April to June with the maximum temperature touching 39 degrees. Winters in Shantiniketan are comparatively colder with temperatures falling to as low as 12 degrees.
You can adjust well with light woolen clothes to enjoy the chilly weather of Shantiniketan as winters last for only two months, December and January. As for monsoon, Shantiniketan receives enough rainfall of about 125 cm after a long summer in the month of June and continues till September. Though you can explore the place at anytime during the year, monsoons serve as the best time to visit as one can view the resemblance of Shantiniketan as a lush green resort. The mesmerizing beauties along with the beautiful climate makes this spectacular place a perfect weekend getaway from the hustling life of Kolkata.