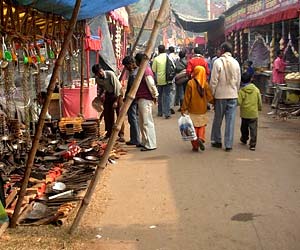 Spread across the lush green open grounds of the university, Shantiniketan has gone ahead than its learning center image. Its rapid popularity has more visitors attracting towards it, making it a perfect destination for weekend getaway. Boasting of being the habitat of the Nobel Laureate Rabindranath Tagore, the Vishwabharati University has several colleges and institutes, apart from two schools for kindergarten, primary, secondary and higher secondary education. Considered as one of the best art colleges in the world, Kala Bhavan too is housed in the same university. Just in case you are wondering on what to do apart from visiting the university at Shantiniketan, do not worry. The town has more to offer beyond your imagination. Find some fun activities to do while you are at Shantiniketan.
Fun Activities To Do In Shantiniketan

Visit Poush Mela
Just in case you are visiting Shantiniketan in December, do not forget to miss out the Poush Mela that lasts for three days from December 22 to 25. The town's biggest festival, you can indulge yourself into a variety of traditional Bengali handicrafts and bric-a-brac like jewelry, leather goods and batik prints. Watch out for live performances by singers, dancers and bauls (wandering minstrels) singing their unique folk songs.
Shopping
A rural development center, Sriniketan is located at a distance of few minutes' drive from Shantiniketan. You will find the locals creating a variety of stunning handicrafts like colorful batiks, intricate embroidery on saris, scarves, and bags, and terra-cotta items such as jewelry. A visit to this place will surely mesmerize you and leave you bewildered while choosing a few of those beautiful and exclusive crafts items.