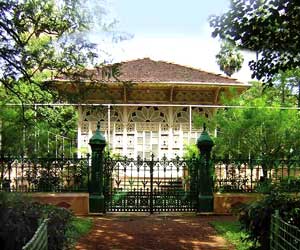 Flaunting the historical importance of Rabindranath Tagore, Shantiniketan is situated near Bolpur in the Birbhum district of West Bengal around 180 km north of Kolkata. The town has gained enormous popularity due to Tagore who has penned numerous literary classics on the grounds of this university. Though the town has gone ahead with some magnificent nearby places worth visiting, the primary attraction still remains the Vishwabharati University, where the famous poet once lived, along with its various departments. To find more interesting and spectacular locations in Shantiniketan, explore through the following lines and know your perfect stop.
Places to See in Shantiniketan

Vishwabharati University
Undoubtedly, the university is the main attraction at Shantiniketan. The Uttarayan complex, where the poet had lived forms the main highlight. It consists of several buildings such as Udayana, Konark, Shyamali, Punscha and Udichi where each displays a distinctive feature in Indian art and culture. Also look out for Bichitra Bhavan (also known Rabindra Bhavan), Chian Bhavan, Kala Bhavan, Patha Bhavan, Sangeet Bhavan and prayer hall.
Kankalitala
For all you guys who are eager to pay a visit to one of the Hindu shrines, 9 km is all that you have to travel. A little away from Shantiniketan is situated the Kankalitala, a sacred Hindu Shrine. Located on the banks of the Kopai river, it is one of the Shakti Peethas where the waist (kankal in Bengali) of Parvati had fallen.
Deer Park (Ballabhpur Wildlife Sanctuary)
4 km from Shantiniketan, Deer Park is yet another fascination at this town. Originally a fast eroding 'khowai', the park is now a large wooded area. It homes several herds of deer such as Blackbuck and Spotted Deer, and other birds making it a natural bird sanctuary. Also find other animals like jackals and foxes.
Nanoor
The birth place of the 14th century Vaishnava poet, Chandidas, Nanoor is a small town 23 km away from Shantiniketan. It is an alluvial plain sandwiched between Ajay River and Mayurakshi River. Watch out the artisans engaged in making various invaluable handicrafts that are recognized worldwide.
Jaydev Kenduli
Located on the banks of Ajay River, Jaydev Kenduli is a small village in Bolpur. It is the birthplace of Jaydev, the author of Geet Govinda, the 12th century masterpiece in Sanskrit. The place has recently become a religious center housing many temples and ashrams. Visit this place on the occasion of Makar Sankranti when an annual fair, called baul fair, is organized.