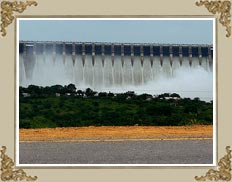 Nagarjuna Sagar Dam is certainly the pride of India, since it is the tallest masonry dam in the world. This colossal dam supplies water for irrigation purposes to the districts like Nalgonda, Prakasam, Khammam and Guntur in Andhra Pradesh. Named after the Buddhist monk 'Nagarjuna', the dam actually separates the Guntur and Nalgonda districts. Owing to its confounding height of 124 meters, Nagarjunasagar Dam can store up to 11, 472 million cubic meters in its reservoir.
Apart from these achievements, the dam also has been known for being one of the earliest irrigation and hydro-electric projects in India. Built across the Krishna River, it boasts of one of the largest networks of canal systems in the world. Nagarjuna Sagar Dam is located at a distance of 160 kms from Guntur and 150 km from Hyderabad. Considering the tourism prospects, a lake has been developed just behind the dam, which is acclaimed to be the third largest man-made lake in the world.
Andhra Pradesh Tourism Department is planning to further promote tourism at this architectural marvel. Sprawling over an area of 60,000 sq km, Nagarjuna Lake is the only medium to reach Nagarjunakonda Island, where ancient artifacts are kept in a museum. These artifacts were dug out during the excavations of a Buddhist site. A boat ride would take you to the island, a place with the most beautiful landscape. This place of global recognition and scenic countryside should not be missed during your trip to Andhra Pradesh.