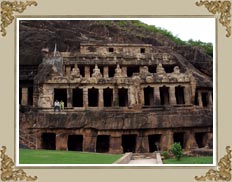 Undavalli Caves are striking specimen of Indian rock-cut architecture. Built during the 4th-5th century, these caves are to be found in Undavalli village, about 32 km from the Guntur city of Andhra Pradesh. Their structure suggests that they have been erected out of solid rock on a hillside. Dedicated to Anantapadmanabha Swamy and Narisimha Swamy, Undavalli Cave Temples are associated with the Vishnukundina kings. Its impressive façade lengthens to 29 meters and widens to 16 meters.
The amazing four-storey edifice looks marvelous amidst lush green countryside. Though the caves comprise basically of temples, the architecture appears to be imbibed from Buddhist monasteries. To enter the ground floor, either one of the seven entrance doors on façade that would take you to an uncompleted low pillared hall having 8 columns. On the first storey, the trinity of Brahma, Vishnu and Mahesh is depicted through three different shrines, each having pillared hall in the front.
The walls are adorned with murals, depicting scenes from the mythological stories. Anantasayi (Vishnu reclining on serpent couch) is the remarkable figurine of 5 meters, which festoons the second storey of the Undavalli Caves Temples. The studies reveal that sculptures of both Shiva and Vaishnava must have been added later. Even the architecture at the top floor suggests that it was proposed for a triple shrine.
This fragmentary temple has some of the sculptural specimens, which are recognized with the Chalukyan style of architecture. The sculptures represent the dexterity of the skilled artisans of the ancient times. To have a glimpse of the frescos, murals and artistic sculptures, you are required to take a candle or torch, since the place doesn't have electricity. A visit to Undavalli caves would definitely be an interesting expedition for anyone visiting Guntur.