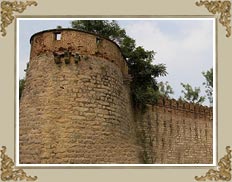 By now you must have known what all you would get to see in Nizamabad. Apart from the sightseeing trips, there are many nice tourist places to see around the city. These excursions would include splendidly designed monuments, ancient temples, spectacular sights, cascading watercourses and lush green gardens. Amidst all such interesting places, Nizamabad would offer you all this and much more to make your trip really an unforgettable one.
Bodhan
Bodhan is an industrial town, about 32 km from Nizamabad. It is known for housing remnants of structures, constructed by various rulers of different dynasties. The renowned Deval Masjid (mosque) is sited here. Being an important historical site, Bodhan attracts thousands of tourists.
Manchippa
Manchippa, a village submerged in natural beauty, is located 18 km from Nizamabad. This picturesque village has a huge reservoir, which has facilities of boating. People from all the nearby villages and towns come here to enjoy the scenic beauty. Away from the hustle and bustle of daily life, Manchippa offers perfect surroundings for those seeking solitude.
Domakonda Fort
Domakonda Fort is a fine specimen of defense architecture. This impregnable fort was renovated by the Reddy rulers in the 18th century. It had been under the possession of the Qutub Shahis and the Asaf Jahis at different times. Strong fortifications and numerous bastions made this fort unconquerable.
Ali Sagar
In 1931, Ali Sagar - a huge reservoir - was constructed by the Nizam. Amidst hillocks and beautiful flower gardens, Ali Sagar has become the centre of attraction amongst the people of nearby areas. It is situated at a distance of 10 km from Nizamabad. Boating is an added attraction at this eco-tourism site.
Limbadri Gutta (Hills)
About 55 km from Nizamabad, Limbadri Hill presents a panoramic view of the landscape. It is also known for Narasimha Swamy Temple, where a grand celebration is observed, from Kartika Sudda Thadiya to Trayodasi. Along with spectacular scenes, the hill offers moments of quietude and solitude.
Mallaram Forest
An ideal destination for trekking, Mallaram Forest is to be found at a distance of 7 km from Nizamabad. It has a variety of trees, plants and herbs. For eco-tourism, Mallaram is the perfect place entrenched in natural splendor. A pagoda and a view-point tower are the main attractions inside the forest.
Rock Formations-Armoor Road
Armoor is a natural stopover for the traffic on the highway. This site boasts of hillock of boulders, resultant of natural weathering over 1.45 billion years. Navanatha Siddeswara Temple is sited on top of the hill. According to the folklores, Navanathas or Siddhas (revered sages) still reside in the natural caves of these hillocks. A gorge nearby is believed to have curative properties in its waters.