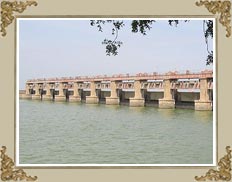 Nizamabad enthralls its visitors in the midst of its charming landscape, shimmering watercourses, rich vegetation and historical monuments. Tour to this ancient Indrapuri and experience the rich culture bestowed by the dynasties that ruled the region. Ample of interesting places in the region would become part of your sightseeing tours. And for sure, you will be mesmerized by the charm of this region, enveloped in natural splendor.
Nizam Sagar
Nizam Sagar is a colossal reservoir across Manjira River, a tributary of Godavari River. Known for its spectacular beauty, the landscape is accompanied by sprawling gardens. Many boarding and lodging facilities are available here for the tourists. Boating is an added attraction.
Asok Sagar
About 7 km from Nizamabad, Asok Sagar is a huge reservoir, with neatly laid-out garden and beautiful rocks. Amidst the reservoir, an exquisite 15 feet statue of Goddess Saraswati adds grace to the site. Here, you can tickle your taste buds at the octagonal shaped restaurant. This eco-tourism destination has a swinging bridge and boating facilities.
Kanteshwar
There is a locality by the name of Kanteshwar in Nizamabad. It is known for a temple that is approximately 500 years old. Dedicated to Lord Shiva (Neela Kanteshwar), this temple boasts of splendid architecture. It was built by the Satavahana king, Satakarni-II. Rathasapthami festival is observed here with grand celebrations.
Bada Pahad Dargah
Bada Pahad Dargah, literally Big Hill Mosque, is visited by scores of devotees every year. The mausoleum of Saint Syed Sadullah Hussaini is sited between the hills of Varni & Chandur. This site has been chosen for ropeway project.
Archaeological and Heritage Museum
Opened in October 2001, the Archaeological Museum contains countless artifacts and antiquities, which signify the growth of human civilization from the Paleolithic to Vijayanagar Times. It is divided into three sections - Archaeological Section, Sculptural Gallery and Bronze and Decorative Gallery, respectively.
Sarangapur
About 8 km from Nizamabad, Sarangapur is renowned for a Hanuman Temple. It is believed that foundation of the shrine was laid by Saint Samartha Ramadas, who was the Guru of Chatrapati Shivaji in the 16th century. Apart from the temple, the Tourism Department has developed parks and hotels, facilitating tourists and pilgrims.
Dichipalli Ramalayam
Adjacent to Hyderabad-Nizamabad highway, Dichipalli Ramalayam is a temple situated at a distance of 15 km from Nizamabad. This temple is positioned on a hillock, where the presiding deity is Lord Rama. Built entirely in white and black basalt stone, the temple has got exquisite carvings on its walls and door frames.
Nizamabad Fort
Built by the Rashtrakutas, Nizamabad Fort is the pride of the city as well as the district. In 1311 AD, this Fort was occupied by Allauddin Khilji, followed by the Bahamanis, Qutub Shahis and eventually by Asaf Jahis. Dating back to the 10th century, the colossal fort is encircled by fortifications and bastions. Today, its spacious halls and summer house reflect the Asaf Jahi style of architecture.