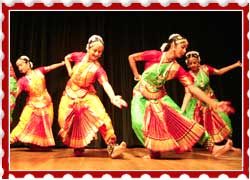 The dances of Karnataka are a reflection of the rich cultural milieu of the state. Dances belonging to both folk and classical genres have a flourishing presence in different parts of the state. While the many indigenous communities of Karnataka have preserved and nurtured their folk dance forms, the state also boasts of a thriving presence of Indian classical dances.
The rural areas of Karnataka are a vast repository of colourful folk dances and dance-dramas. Dollu Kunitha dance is unique for its religious aspect and is associated with the worship of the deity of Beereshwara. On the other hand, Yakshagana is a folk theatre that features actors enacting stories from epics and puranas.
Classical dances too enjoy a firm foothold in the state of Karnataka. The much-acclaimed dance of Bharatanatyam has taken root in the state in the form of Mysore Bharatanatyam. With its striking facial expressions and graceful hand movements, Bharatanatyam occupies the pride of place in the realm of Indian classical dances.