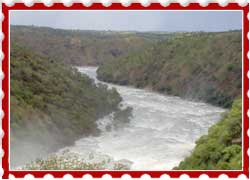 The confluence of lofty hills and meandering rivers has given rise to a number of waterfalls in Karnataka. Each of these waterfalls produces a breathtaking sight with water gushing down with enormous power. With the arrival of monsoon season, seasonal rainfalls render these majestic falls a sight to behold.
The Jog falls, the grandest of the Karnataka falls, is regarded the highest waterfall in Asia. The four cascades of the falls tumble down from a height of 253 meters, creating a grand spectacle. The Shivasundaram falls is a segmented waterfall and hosts the first hydro-electric power station of Asia.
Most of the waterfalls in Karnataka are popular tourist hubs for the enchanting locales around. The contrast of roaring waterfalls and sylvan surroundings beckon avid tourists from all over India.
Abbey Falls
Located at a distance of 9km from the town of Madikeri, the Abbey falls produces a spectacular sight of cascading water. Nestled amidst private coffee plantations, the Abbey Falls provide a striking contrast to the sylvan surroundings of Coorg. A narrow road winding through the green and dense foliage of surrounding coffee plantations leads to Abbey Falls.
Iruppu Falls
Located beside the Nagarhole National Park, the Iruppu falls presents a majestic sight with water cascading down from a height of 170ft. Originating in the lofty Brahmagiri peaks; the falls become a part of the Lakshmana Teertha River in the plains. During the monsoons, the Iruppu falls swell with seasonal rainfall.
Jog Falls
The grandest among Karnataka waterfalls, Jog falls is created by the Sharavati river tumbling down from a height of 829ft. (253m) in four distinct cascades - known locally as Raja, Rani, Roarer, and Rocket. Regarded the highest waterfall in Asia, Jog falls is one of the major tourist attractions in Karnataka.
Shivasamudram Falls
The Shivasamudram falls is a segmented waterfall since the river Cauvery branches into two separate falls - the western falls known as Gaganachukki and the eastern falls, Bharachukki. Shivasamudram falls is the second biggest waterfall in India and the sixteenth largest in the world .