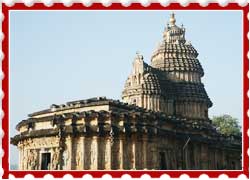 Throughout the ages, most of the major religions of India have flourished in Karnataka and as such one witness a profusion of pilgrimages across the length and breadth of the state. These religious places are held in high reverence and pious devotees from distant lands come here to seek blessings.
The majority of sacred pilgrimages owe allegiance to Hinduism even though Jain religious places are found in many regions. The predominantly Hindu dynasties patronized the building of temples and shrines across the state. Great religious scholars like Shankaracharya and Basaveshwara established sacred maths and consecrated many pilgrimages.
Shravanabelagola, Dharmasthala and Karkala are prominent Jain pilgrimages of Karnataka. These sacred shrines are marked by the colossal statues of Bahubali or Lord Gomateshwara. The Gomateshwara statue of Shravanabelagola is one of the largest monolithic statues in the world and during the auspicious occasion of Mahamastakabhisekha, devotees descend here in large numbers.
The religious places of Karnataka epitomize the tenets of religious tolerance and communal harmony. For ages, religions have co-existed peacefully in Karnataka.
Banavasi
Located on the border of Uttara Kannada and Shimoga districts, the ancient temple town of Banavasi has been a great religious hub for ages. The fact that it is regarded the most ancient city of India after Varanasi, speaks volumes about rich heritage of Banavasi.
Basavakalyan
Located in the Bidar district of Karnataka, Basavakalyan has been a great pilgrimage center. The illustrious capital of the Kalyani Chalukya dynasty from 1050 to 1195, Basavakalyan witnessed a series of religious and cultural turbulence in the 12th century.
Dharmasthala
One of the most sacred places in South India, Dharmasthala is an exemplary manifestation of communal harmony and peaceful co-existence of different religions.
Mudabidri
Acclaimed as the 'Jain Varanasi' of South India, the landscape of Mudabidri is dotted with 18 Jain basadis. Basadis are Jain monasteries or temples where an image of one of the twenty-four tirthankaras (saints) is installed and worshipped.
Murudeshwar
Murudeshwar is known as much for its sacred temple complex as for its picturesque beaches. Nestled between the vast sea and undulating hills, Murudeshwar is thronged by pious devotees and enthusiastic tourists alike.
Shravanabelagola
One of the holiest Jain pilgrimages, Shravanabelagola is synonymous with the colossal monolithic statue of Jain saint Lord Gomateshwara.
Sringeri
Regarded as one of the most sacred Hindu pilgrimages in South India, Sringeri was the abode of Shankaracharya, the great 9th century philosopher and social reformer.