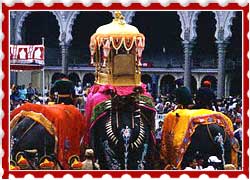 The festivals of Karnataka incorporate myriad elements of indigenous culture. Rich in detail and extravagant in celebrations, the Karnataka festivals attract tourists from all over India and abroad. While many festivals pertain to specific communities, the more prominent ones are celebrated across the state.
Among the Karnataka festivals, the Mysore Dasara stands out for the opulent display of pomp and pageantry. A riot of color and joyous festivities, the Mysore Dasara beckons tourists craving for a glimpse of the state's royal legacy. On the other hand, the unassuming Kambala festival is rooted in the celebration of rural life.
The Ugadi festival is celebrated all over the state as the Kannada New Year. On this day, people decorate their houses and savour delicious traditional delicacies. The Kail Poldu festival, exclusive to the Coorg region, is celebrated by the warrior race of Kodavas.