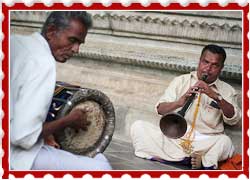 Karnataka boasts of an enviable tradition in the realm of folk and classical music. The rich heritage of music of Karnataka can be ascribed to the Vijayanagara and Woodeyar kings who themselves were great exponents of music and literature. These dynasties patronized the growth traditional music and encouraged promising musicians.
Karnataka has made substantial contribution to the evolution of the both forms of Indian classical music, Carnatic and Hindustani classical music. The emergence of the Haridasa movement in the 14th century gave an impetus to the Carnatic music. Among the Haridasas, Purandara Dasa played a pioneering role in laying the foundation of Carnatic music. Known as the Pitamaha of Carnatic music, Purandara Dasa composed around 475,000 compositions in Kannada.
Ragas are the basic building blocks of both Carnatic and Hindustani classical music. Ragas are characterized by their specific ascent (Arohana) and descent (Avarohana). Prominent Hindustani classical musicians from Karnataka include Mallikarjun Mansoor, Bhimsen Joshi, Basavraj Rajguru, Nagarajarao Havaldar and Gangubai Hangal.
Music of Karnataka also encompasses a great variety of folk music. The folk music forms of Karnataka are an integral part of the rural life and possess the distinctive characteristics of the regions where they belong.