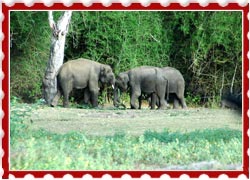 Nestled at the foothills of the Western Ghats Mountains, Bandipur National Park is well-known for its expansive tracts of virgin forests. Once a popular game reserve of the Mysore Maharajas, this national park forms a part of the Niligiri Biosphere Reserve today, which also encompasses the Nagarhole National Park of Karnataka, Wayanad Wildlife Sanctuary of Kerala and Mudumalai Wildlife Sanctuary of Tamil Nadu. Spread over an area of approximately 874 sq km, it was created out of the Bandipur Reserve Forest, in 1931.
In 1973, Bandipur Wildlife Sanctuary was conferred the status of a designated tiger reserve, as per the ambitious Project Tiger Scheme launched by the World Wide Fund (WWF). In 1974, the wildlife sanctuary was declared a National Park, under the Wildlife Protection Act. Since then, stringent anti-poaching measures have resulted in a steady increase in the big cat population. The park is open throughout the year, but the best time to visit is in monsoon season i.e. from May to September, when the wildlife is plenty and forest is full of greenery.
Flora
Bandipur National Park is a treasure trove of exotic species of flora and fauna. The vegetation ranges from deciduous and evergreen forest covers to open grassy woodlands. The upper tree canopy in the forest comprises Teak, Rosewood, Honne, Mathi, Bamboo, Bamboo, Nelli and Sandal Trees. It is because of this variety in the flora of the national park that it serves as home to a large popular of animals and birds.
Fauna
Bandipur Wildlife Sanctuary plays host to a myriad of animal species, which include tiger, leopard, elephant, gaur, sambar (deer), chital, sloth bear, mouse deer, wild dog, wild boar, barking deer, giant squirrel, four-horned antelope, nocturnal porcupine and hyena. Apart from these, panther, mouse deer and osprey are some of the exotic species found in the park.
Avifauna
The avian population in Bandipur National Park is represented by grey junglefowl, pompadour green pigeon, honey buzzard, red-headed vulture, grey-headed fish eagle, brown hawk owl, bay owl, malabar trogon, nilgiri flycatcher, malabar pied hornbill, little spiderhunter, peacock, plain flowerpecker, woolly-necked stork, peafowl, partridge, quail, hornbill and ibis.
Other Residents
Bandipur Wildlife Sanctuary also houses reptiles like king cobra, common cobra, python, adder, viper, rat snake, water snake, marsh crocodile, lizard, chameleon, monitor lizard, frog, tree frog, toad and tortoise. It also serves as the abode to a wide variety of butterflies, along with ants and dung beetles. In short, you will find a wide variety in the sanctuary.
How To Reach Bandipur
Bandipur wildlife Sactuary, located in Bangalore, is contiguous to with the Madumalai forests and cut off from Tamil Nadu by the Moyar Gorge. A natural habitat for wild animals, it is home to around 70 tigers and a huge number of Asiatic elephants. Traveling to Bandipur is easy as it is well connected to all the major cities of Karnataka.
Things To Do In Bandipur
Bandipur national park is one of the famous Protected areas of India. It also an important Project Tiger Reserve. Bandipur is located in the Chamarajnagar district of southern Karnataka and adjoins the Madumalai National Park, located in the neighboring state of Tamil Nadu and the Wynad Wildlife Sanctuary in Kerala, and the Nagarhole National Park to the northwest.
Bandipur Weather
Bandipur has a moderate climate throughout the year. The summer season commences from March and lasts up to May. Summers are slightly hot with the temperatures ranging from 25-35 degree C. A lot of tourists actually prefer this time to sight the wildlife in the Bandipur Reserve.