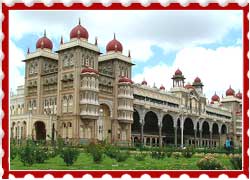 Magnificent palaces, scenic gardens, fragrant sandalwood, luxurious silks, flamboyant festivals-- Mysore is a veritable tourist extravaganza with its glorious history and rich tradition. Located 140 kms from Bangalore, this City of Palaces bursts at the seams with a mindboggling array of attractive destinations.
A city steeped in history, Mysore was the regal capital of the Woodeyar dynasty who ruled virtually uninterrupted from 1399 until Independence, barring the 38 - year rule of Haider Ali and his prodigious son, Tipu Sultan, in the 18th century. The profusion of stunning palaces, picturesque gardens, imposing buildings, shady avenues and sacred temples stands as proud witness of the grandeur of the bygone era.
Mysore finds mention in the Hindu mythology as the place where warrior goddess Chamundeshwari destroyed buffalo-headed demon king Mahishasura. The Mysore Dassara festival, celebrating the victory of good over evil, is celebrated with traditional pomp and pageantry and attracts tourists by hordes.