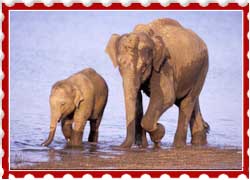 Reputed to be one of the well-managed sanctuaries in India, the Nagarhole National Park is a part of the sprawling Nilgiri Biosphere Reserve in South India. Established in 1955 as a sanctuary and designated as a National park in 1975, the park was later renamed as Rajiv Gandhi National Park after the late Prime Minister of India.
Nagarhole in Kannada stands for 'Snake River', a few serpentine streams fork through the rich tropical forests of the park. On its northern confines is the Kabini River and on its southern fringes is the Bandipur national park. A dam on the Kabini River and its picturesque reservoir demarcates the two national parks. During the dry season (February. June), this artificial lake attracts a large number of animals, making it an ideal spot for sighting wildlife.
Flora at Nagarhole National Park
The Nagarhole National Park is well endowed in terms of vegetation and flora that comprises tropical deciduous forest in the northern and western parts and dry deciduous forest in the south-eastern part. Several shrubs belonging to Solanum, Desmodium and Helicteres are abundantly found but weedy shrubs like Eupatorium and Lantana now dominate.
Fauna at Nagarhole National Park
The important predators and carnivora in the Nagarhole National Park are tiger, leopard, wild dog (dhole or Cuon alpinus), sloth bear and the hyena. The herbivores are spotted deer, sambar, barking deer, four-horned antelope, gaur (Bos gaurus), wild boar (Sus scrofa) and elephant.
How to Reach Nagarhole National Park
By Air
The Nearest airport to the park is Mysore (96 km) and Bangalore (236 km around 5hrs from the park).
By Rail
The major railhead closest to Nagarhole is Mysore, 80 km.
By Road
The nearest town is Kutta 7 km way. And other major towns that are accessible by road are are Madikeri (93 km), Mysore (80 km) and Bangalore (236 km).