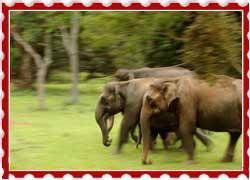 Nestled in the foothills of the Western Ghats mountains, the Bandipur National Park is well-known for its expansive tracts of virgin forest. Once a popular game reserve of the Mysore Maharajas, today Bandipur National Park is part of the Niligiri Biosphere Reserve encompassing the Nagarhole National Park, Wayanad Wildlife Sanctuary in Kerala and Mudumalai Wildlife Sanctuary in Tamil Nadu.
In 1973 Bandipur wildlife sanctuary was conferred the status of a designated tiger reserve as per the ambitious Project Tiger Scheme launched by the World Wide Fund (WWF). In 1974, the Bandipur wildlife sanctuary was declared a National Park under the Wildlife Protection Act. Since then stringent anti-poaching measures have resulted in a steady increase in the big cat population.
Flora at Bandipur National Park
The Bandipur National Park is a treasure trove of exotic species of flora and fauna. The vegetation ranges from deciduous and evergreen forest covers to open grassy woodlands. The upper tree canopy in the forest comprises Teak, Rosewood, Honne, Mathi, Bamboo, Bamboo, Nelli and Sandal Trees.
Fauna at Bandipur National Park
The Bandipur Wildlife Sanctuary plays host to a myriad of animal species including Tiger, Elephant, Gaur, Leopard, Chital and Sambar. The avian population is represented by the Peafowl, Partridge, Quail, Hornbill and Ibis. Apart from these, Dhole (wild dog), Sambar, Barking Deer, Giant Squirrel, Sloth Bear and Nocturnal Porcupine are some of the exotic species found in the park.
How to Reach Bandipur National Park
Air
The nearest airport to the park is located at Mysore situated - 80 kms from the park.
Rail
The nearest Railway Station to the park is located at Nanjungud - 55 kms from the park.
Road
The park is located on the highway connecting Mysore and Ooty (80 kms). There are regular buses and easily available taxis from all the neighbouring cities, mainly Mysore, 80km away.