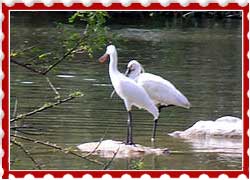 Located on the banks of the Cauvery River, the Ranganthittu Bird Sanctuary is spread over a group of six islets. The islets were formed when a dam was constructed across the Cauvery River in the 1700s. Its small size notwithstanding -- Ranganathittu covers an area of only 0.67 km² -- the isolated islets and the abundance of aquatic insects during the monsoon make Ranganthittu a favorite destination for the avian species.
Due to the visionary efforts of noted ornithologist Dr. Salim Ali, Ranganthittu became a designated bird sanctuary in 1940. During his survey of the birds of Mysore, Dr. Ali advocated for the establishment of such a sanctuary and eventually impressed upon the Woodeyar kings of Mysore to declare the area a wildlife sanctuary.
Flora at Ranganthittu Bird Sanctuary
Flora at the Ranganthitu Bird Sanctuary mostly consists of marshy grassland.
Fauna at Ranganthittu Bird Sanctuary
The sanctuary is home to a myriad of bird species such as cormorants, darters, white ibis, storks (spoonbilled, openbilled, painted, white necked), egrets, herons, terns, swallows, streaked weavers, ducks, teals, sandpipers, kingfishers, and other exotic bird species that fly to the sanctuary in large flocks. The mammal population consists of fruit bats, bonnet macaques, palm civets, common mongoose and common otters.
How to Reach Ranganthittu Bird Sanctuary
By Air
Bangalore is the nearest airport and is located 139 km away.
By Rail
Passenger and express trains link Mysore with Bangalore, Chennai and other prominent places.
By Road
Ranganathittu is located 18 km away from Mysore.