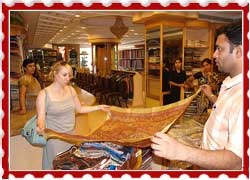 As the treasure trove of a myriad of handicrafts, Mysore is a veritable shopping extravaganza. Government -owned emporiums, shops and the bustling bazaars teem with a vast array of delightful artifacts straddling silks, sandalwood crafts, traditional paintings, perfumes and lot more. The main shopping centers are around Krishnaraja Circle, Devaraja Urs Road and Sayyaji Rao Road.
The shimmering silks of Mysore figure prominently in shopping lists. There are private weavers in Mysore and there is the Government Silk Weaving Factory that produces beautiful silk sarees, silk fabric and ties. This factory has its showroom on Manandavadi Road and also in the shopping area around Krishnaraja Circle at the heart of the city.
Mysore is equally well-known for artifacts are made out of sandalwood, rosewood and teakwood. Craftsmen produce figures of Gods, Goddesses, jewel boxes, small gift items etc. The best place to buy these things is the Cauvery Handicrafts Emporium of the Karnataka Handicrafts Development Corporation.
Mysore is also famous for Agarbathies or incense sticks. A large variety of incense sticks are manufactured by small and large manufactures. It is manufactured here using locally available perfumes like sandalwood and jasmine and the exported for Mysore and Bangalore to the rest of the world. The best place to get all these items is the Government Handicrafts emporium in Mysore.