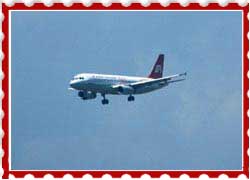 Mysore is located 140 km to the south west of Bangalore, the capital of Karnataka. Mainly known for its magnificent palaces, colorful festivals and picturesque garden, the city is visited by a large number of people every year. Especially those who go to Bangalore make sure to pay a visit to Mysore as well. Keeping in mind the large rush of tourists witnessed by the city, it has been made accessible by air, rail as well as road. With this article, we will help you know how to reach Mysore.
Traveling to Mysore
By Air
Bangalore, the nearest airport from Mysore, is located at a distance of approximately 139 km. It is connected to all the major cities of India, like Chennai, Delhi, Hyderabad, Mumbai, etc. For instance, there are 22 daily flights from Bangalore to Chennai, operated by numerous airlines. Apart from that, the airport caters to international destinations as well. From the airport, you can take a taxi to Mysore, which will cost somewhere between Rs 2,400 and 3,400.
By Rail
Passenger and express trains link Mysore with Bangalore, Chennai and other prominent places in and around Karnataka. For instance, the super-fast Shatabdi Express connects Mysore with Chennai. Even the rail connectivity between Mysore and Bangalore is good.
By Road
Due to its stature as a prominent tourist destination, Mysore is well connected to other major cities of Karnataka, by road. A 3-hour journey from Bangalore, Mysore is served by bus services run by KSRTC and transport corporations of the neighboring states as well as private tour operators. In case you want to drive to Mysore, from Bangalore, you will have to take NH4 across southern Andhra, via Ranipettai, Chittoor, Hosur and Hoskote. From there, you will have to go to Mysore via Maddur and Srirangapatna. From Chennai (470 km), you can get taxis as well as buses, for reaching Mysore.