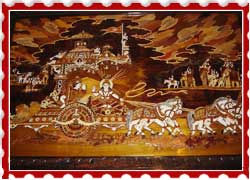 Karnataka beckons all those who love to shop till they drop. The state is a shopper's paradise with an extensive wealth of indigenous artifacts. Mysore silks, sandalwood crafts, metalware products, bidriware of Bidar, lacquerware of Chennapatna…. all these and more await shopping veterans who are ever-ready to splurge. Shopping in Karnataka should ideally encompass the following crafts.
Bidriware
Originating in Bidar in North Karnataka, bidriware articles involve the inlaying of gold or silver on a base of an alloy of zinc and copper. Bidriware is used to embellish various objects, including platters, paan boxes, goblets, hookahs and trays.
Mysore Paintings
Traditional Mysore paintings are a mesmerizing spectacle with their bright vegetable dye colors and lustrous gold leaves.
Sandalwood
Sandalwood of Karnataka is renowned for the exquisite carvings on wood. The sandalwood products range from idols of deities and finely wrought chariots to decorative pieces such as paper cutters, boxes, name cases, trays, photo frames, and combs.
Mysore Silks
Mysore is famous for its luxuriant silk sarees. These sarees enchant one and all with a riot of colours and traditional patterns woven in real gold threads and brocade. They are a must have on everyone's shopping list.
Metalware
Metalware craft has taken distinctive forms in different regions of Karnataka. The temple town of Udupi is known for its mythological figures cast in metal, while household articles cast in bell metal are found in Mangalore. Nagamangala near Mysore is well known for its bronze objects.