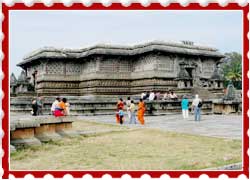 Hassan is the district headquarters of Hassan district. Hassan is known by the sobriquet "Poor Man's Ooty" for its scenic locales. The town derives its name from its presiding deity goddess 'Hasanamba', founded in the 11th century by Channa Krishnappa Naik.
Though bereft of any major tourist attractions, Hassan district is home to some fabulous pilgrimages such as Belur, Halebid and Shravanabelagola. Belur is known for the famous Chennakeshava temple, an epitome of Hoysala temple architecture. The temple was constructed in 1117 AD by Hoysala king Vishnuvardhan to celebrate his victory over the Cholas at the battle of Talikad
The sacred temple town of Halebid was the capital of the Hoysala dynasty. The Hoysaleshwara and Kedareshwara temples of Halebid are fine specimens of Hoysala temple architecture. Shravanabelagola is renowned for the colossal statue of Lord Gomateshwara and is a Jain pilgrimage.
The Master Control Facility of India's space programme is located in Hassan.
How to Reach Hassan
As the district headquarters, Hassan is accessible by road, rail and air services. It is very well connected with the state run buses and other modes of transport as well. Private taxis are easily available from the domestic airport of Mangalore and Bangalore International Airport. The easiest way of traveling inside the city is by hiring a taxi.
Shravanabelagola
One of the holiest Jain pilgrimages, Shravanabelagola is synonymous with the colossal monolithic statue of Jain saint Lord Gomateshwara. Shravanabelagola occupies a significant place in the Jain legacy of Karnataka, for being the place where Chandragupta, the founder of the Mauryan dynasty
Hassan Tourist Attractions
Hassan, the fourth largest city of the Southern state of Karnataka is a famous pilgrimage destination for tourists from all across India. Hassan can boast of some of the ancient architectural wonders in the form of beautifully carved temples. The place is also a highly preferred halting spot while touring the major attractions around the city as it has some classy hotels
Hassan Weather
The weather in Hassan remains pleasant right through the year. Summers in Hassan are relatively warm with the maximum temperature exceeding to 35°C and minimum temperature hovering at around 20°C. April is the hottest month of the year. Winters are very pleasant and comfortable in Hassan with the maximum temperature resting at 31°C and the minimum temperature dipping to a low of 24°C.