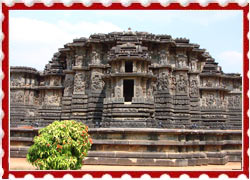 Hassan, the fourth largest city of the Southern state of Karnataka is a famous pilgrimage destination for tourists from all across India. Hassan can boast of some of the ancient architectural wonders in the form of beautifully carved temples. The place is also a highly preferred halting spot while touring the major attractions around the city as it has some classy hotels and reasonable guesthouses for to accommodate the tourists. Below listed are the major tourist attractions to check out in the beautiful city of Hassan.
Places To See In Hassan
Shravanabelagola
Shravanabelagola is a pilgrimage destination for Jains in India. The site is at a distance of 50 kms from Hassan. The name 'Shravanabelagola' can be translated as the 'land of pond' in English. The town has a famous pond and is nestled by two lofty hills called Chandragiri and Indragiri. Shravanbelagola is most famous for a behemoth statue of Bahubali, which is the tallest monolithic statue in the word. Pilgrims flock this famous temple throughout the year. During 'Mahamastakabhisheka', a jain festival held every 12 years, the number of pilgrims shoot up dramatically.
Belur
Belur is situated at a distance of 38 kms from Hassan and is renowned for some of the majestic 20th century temples. The most important temple among them is the Chennakasheva temple, the only one still in use constructed during the Hoysala reign. It took some twelve years to the architects to complete this temple. Every section of this ancient temple is carved with intricate patterns making the temple a splendid architectural beauty. Such awe-inspiring work of art can also be seen in Veeranarayana Temple, Kappe Chennigaraya, temples dedicated to Soumyanaki and Andal.
Halebid
Another place where the tourists will get to see temples carved out of huge rocks is Halebid. Halebid was called Dwarasamudram when it was the capital of Hoysala rulers. The walls of the temples are engraved with pictorial descriptions of how many of the gods looked like. Images of dancers and animals are also carved in the temple. Built on a star shaped platform, the temple has a huge statue of Nandi Bull which is one of the major attractions in the temple.