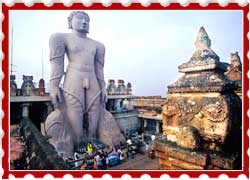 One of the holiest Jain pilgrimages, Shravanabelagola is synonymous with the colossal monolithic statue of Jain saint Lord Gomateshwara. Shravanabelagola occupies a significant place in the Jain legacy of Karnataka, for being the place where Chandragupta, the founder of the Mauryan dynasty, became a Jain ascetic after relinquishing his throne. The place where Chandragupta breathed his last was named Chandragiri.
The gigantic statue of Lord Gomateshwara has been the piece de resistance among a multitude of Jain architectures in Sravanabelagola. The statue, created around 983 AD by Chamundaraya, a general and minister of the Ganga King Rachamatta, stands atop the Indragiri hill and at a height of 18 meters, is regarded the tallest monolithic statue in the world.
During the auspicious event of Mahamastakabhisheka, held in Sravanbelagola once in 12 years, attracts a huge number of devout worshippers from all over the world. As part of the ceremonies that last for about 20 days, the image of Bahubali or Gomateshwara is anointed with 1008 kalashas (painted earthen pots) of water, milk, coconut water, clarified butter, saffron, jaggery, bananas, sandal paste and marigold flowers.