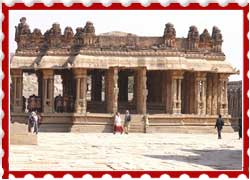 The Karnataka landscape is characterized by a profusion of ancient temples and sacred shrines that have withstood the vagaries of time. These temples, spread across the length and breadth of the state, are renowned as much for their magnificent architecture as for their religious pre-eminence.
The growth and proliferation of temples in Karnataka can be ascribed to the zealous efforts of a succession of royal dynasties who reigned supreme in the Deccan plateau. The Kadambas, Chalukyas, Hoysalas, Gangas, Vijayanagara Kings - all of them were devout rulers and prolific temple builders.
During their reign, each of these kingdoms has given rise to a distinctive school of temple architecture. While the Badami Chalukyas were the builders of rock cut caves and ancient temple complexes, the Hoysalas built temples on raised complex star shaped platforms. The Hoysala temples were characterized by a wealth of intricate carvings and friezes on the temple walls.
Karnataka has also been home to prodigious scholars and great spiritual leaders like Adi Shankaracharya and Saint Basaveshwara who consecrated a number of holy shrines and temples.
Chennakeshava Temple
A supreme example of Hoysala temple architecture, the Chennakeshava temple in Belur, Karnataka leaves one spellbound with its exquisite structure. The temple was constructed in 1117 AD by Hoysala king Vishnuvardhan to celebrate his victory over the Cholas at the battle of Talikad.
Gavi Gangadhareshwara Temple
Built in the 16th century by Kempe Gowda, the founder of Bangalore, the Gavi Gangadhareshwara Temple is an architectural marvel that attracts devotees by hordes. One of Bangalore's oldest temples, the Gavi Gangadhareshwara temple was built by Kempe Gowda in gratitude after being released from his five-year incarceration by Rama Raya.
Hoysaleshwara Temple
A gem of Hoysala temple architecture, the Hoysaleshwara temple of Halebid is ornamented with a plethora of exquisite carvings and sculptures. It was built by Ketamalla, a minister of Hoysala ruler Vishnuvardhana, in the 12th century AD.
Madhukeshwara Temple
The renowned Madhukeshwara temple is the prime attraction of Banavasi, a quaint town located on the border of Uttara Kannada and Shimoga districts.
Mahabaleshwar Temple
The Mahabaleshwar temple is located in Gokarna, a sacred pilgrimage site in the Uttara Kannada district of Karnataka. One of the seven Mukti Sthalas of Karnataka, Gokarna is also known for its idyllic beaches and serene landscape.
Mookambika Temple
Nestled in the foot of the Western Ghats, the Mookambika temple in the village of Kollur attracts devotees from all over India.
Pattabhirama Temple
The Pattabhirama Temple is a major pilgrimage center in the ruined city of Hampi. Along with the Virupaksha and Vitthala temples, the Pattabhirama temple embodies the prolific temple-building ventures of the Vijayanagara rulers.
Someshwara Temple
One of the prominent temples in Bangalore, the Someshwara temple was built during the reign of the Chola dynasty. Endowed with splendid architecture, the Someshwara temple bears testimony to the architectural expertise of the Chola era.
Virupaksha Temple
The majestic Virupaksha temple stands proudly amidst the ruins of Hampi, the erstwhile capital of the mighty Vijayanagara Empire.