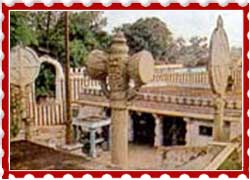 Built in the 16th century by Kempe Gowda, the founder of Bangalore, the Gavi Gangadhareshwara Temple is an architectural marvel that attracts devotees by hordes. One of Bangalore's oldest temples, the Gavi Gangadhareshwara temple was built by Kempe Gowda in gratitude after being released from his five-year incarceration by Rama Raya.
Built inside a natural cave in Gavipuram, the temple is dedicated to Lord Shiva and is carved out of a monolithic stone. The chief attractions of the Gavi Gangadhareshvara temple are the Granite Pillars two of which support mammoth discs representing the sun and the moon, while the other two have a Nandi figure at the top.
On the auspicious occasion of Makar Sankranti, the temple witnesses a unique phenomenon when the evening sun's rays passes through an arch between the horns of Nandi and falls directly on the linga inside the cave, thereby lighting up the idol inside. It is a phenomenon that is proof of the technical excellence of ancient architects, of their knowledge of astronomy combined with great architectural skill.