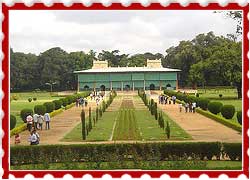 The city of Bangalore boasts of a number of tourist attractions. Bangalore tours would take you to regal palaces, spacious gardens, sacred pilgrimages, museums and ancient monuments.
Bull Temple
One of the major landmarks of the city, the Bull temple attracts tourists and devotees alike for the magnificent monolithic Bull structure. The Kadalekayi Parishe (The Groundnut fair), which is held in the month of November attracts large number of tourists.
Attara Kacheri
Literally meaning "Eighteen offices", this impressive edifice of red brick and stone houses the state High Court. Built in the Greco- Roman style of architecture, Attara Kacheri building predates the Vidhana Soudha by almost a century and was conceived by Commissioner Bowring.
Bangalore Palace
One of the most popular tourist attractions in Bangalore, the Bangalore Palace has been built along the lines of the Windsor Castle in England and embodies Tudor architecture. Known for the profusion of exquisite woodwork, this stunning palace was built by Chamaraja Wodeyar, Maharaja of Mysore in 1887.
Cubbon Park
Named after Mark Cubbon, Bangalore's longest-serving commissioner, this beautifully laid out park spreads over 300 acres in the heart of the city. A favorite hub of fitness freaks and the elderly population, Cubbon Park also houses some of the most elegant buildings of the city like the Attara Kacheri.
ISKCON Temple (International Society for Krishna Consciousness)
Constructed by the ISKCON society to commemorate the birth centennial of its founder Sri Prabhupada, the temple complex is a synthesis of modern technology and traditional temple architecture. Perched atop a hillock with a panoramic beauty, ISKCON temple attracts thousands of devotees.
Tipu's Palace
Construction of this magnificent palace was started by Haider Ali and completed by Tipu Sultan in 1791. This summer retreat of Tipu, also known as the Adobe of Peace, is a two-storied wooden structure lined with beautifully carved pillars, arches, and balconies. Now home to a museum displaying artifacts belonging to the Haider-Tipu regime.
Vidhana Soudha
This majestic structure, housing the State Legislature and the Secretariat of Karnataka, has an imposing presence on the landscape of Bangalore. Influenced by the Neo-Dravidian style of architecture, it is reputed to be the largest secretariat in India. Vidhana Soudha came up courtesy the efforts of Kengal Hanumanthaiah, Chief Minister of the then Mysore state between 1951-1957.