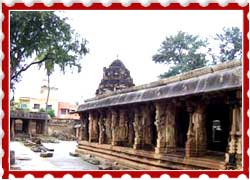 One of the prominent temples in Bangalore, the Someshwara temple was built during the reign of the Chola dynasty. Endowed with splendid architecture, the Someshwara temple bears testimony to the architectural expertise of the Chola era. Right at the entrance of the temple, a Rajagopuram (tower) and a Dhwajastambha (massive pillar) provide glimpse of the master craftsmanship of a bygone era.
Though the presiding deity of the temple is Lord Shiva, the temple houses other deities of Kamakshamma, Arunachaleswara, Bhimeswara, Nanjundeswara and Panchalingeswara as well. While the main temple was built by the Chola kings, the impressive Rajagopuram and the compound of the temple was built by chieftain Kempegowda, the founder of Bangalore.
On the eve of Shivarathri in the month of February, devotees flock to the Someshwara temple in large numbers. Worshippers jostle with each other for a darshan of Lord Shiva and the Pancha Lingeswaras. The temple celebrates Brahmotsava on the full moon day and Kamakshamma Pallaki Utsava festivals in the month of April. The deity of the temple, Goddess Kamakshamma, is taken in a procession in a Pallaki (palanquin) around the temple.