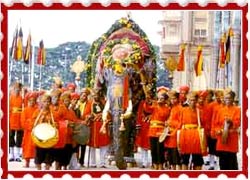 True to its rich cultural heritage, Karnataka celebrates a multitude of fairs that are marked by sacred rituals and joyous festivities. Most of these fairs center on the presiding deities of temples worshipped by local communities. During these fascinating events, pious devotees and enthusiastic tourists throng the fair sites.
The Banashankari Devi fair, Yellamma Devi fair and Sri Vithappa fair are the prominent among Karnataka fairs. While the Banashankari fair is held to honor Devi Banashankari or Parvathi, the Yellamma fair reveres Devi Yellamma or Renuka, wife if sage Jamadagni.
The Godachi fair and Sri Shidlingappa's fair are two other major fairs. Held in the month of Kartik, the Godachi fair is held in the honor of Shri Veerabhadra and is organized by the government of Karnataka. Sri Shidlingappa's fair is observed on Shivaratri and the deity is taken in a palanquin accompanied by drummers (Dollu and Majalu) from several neighboring villages.