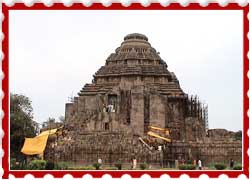 The Mahabaleshwar temple is located in Gokarna, a sacred pilgrimage site in the Uttara Kannada district of Karnataka. One of the seven Mukti Sthalas of Karnataka, Gokarna is also known for its idyllic beaches and serene landscape. The Mahabaleshwar Shiva temple is regarded to be next in sanctity only to the Vishwanath Siva Temple in Varanasi and is often called the Dakshina Kashi.
The Mahabaleshwar temple enshrines the Aatma Lingam of Lord Shiva. Legend has it that the holy Lingam was given by Shiva to King Ravana to make his kingdom an invincible fortress. Varuna and Ganesha tricked Ravana into placing the Lingam here and in spite of the might exerted by Ravana (Maha Bala) the Lingam remained rooted to the ground.
The six foot tall Shiva Lingam, enclosed in a square Saligrama Peetham, can be seen only once in 40 years, when the Ashta bandana Kumbhahishekam is performed. It is customary here to have a dip in the sea and then worship a Shivalingam made out of sand, before worshipping at the temple. Maha Sivaratri is of great significance in this shrine located in idyllic surroundings.
Also located around Gokarna are Sejjeshwara, Gunavanteshwara, Murudeshwara and Dhareshwara. These four temples along with Mahabaleshwara are known as the Pancha Maha Kshetras.