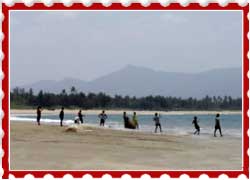 The picturesque Devbagh beach is located on an island that can be reached by speedboats from the Karwar coast. This secluded beach dotted with casuarina groves provides the perfect getaway from the din of city life. Sparkling azure waters and the ivory beach will soothe your weary soul.
Devbagh beach is the ideal retreat for people looking for some seclusion and tranquility. Cut off from the mainland, you can laze around, lie in a hammock or soak in glorious sunshine. Live in tented cottages or huts and marvel at the wonders of nature beneath starry skies.
Besides strolling around in these sun-kissed beaches, you can frolic in the blue seas and enjoy exciting water sports. A tiny secluded cove on Lady's Island serves as the hub of these activities and even non-swimmers are encouraged to snorkel, wearing life- jackets. Dive deep into the seas and explore the exotic ocean life.