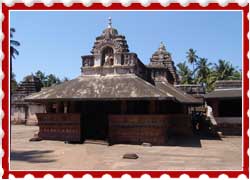 The renowned Madhukeshwara temple is the prime attraction of Banavasi, a quaint town located on the border of Uttara Kannada and Shimoga districts. Banavasi was the capital city of the Kadamba kings, the first royal dynasty of Karnataka who established their empire in 345 AD. The Madhukeshwara temple stands proudly embodying the architectural grandeur of the Kadamba era.
As dynasties rose and fell apart with the passage of time, the temple was subjected to additions and renovations by later dynasties. As such the Madhukeshwara temple came to be known as an amalgamation of several schools of architecture. The presiding deity of Madhukeshwara is a honey colored lingam dedicated during the period of Mayura Varma, the first king of Kadambas.
As one strolls around the sprawling temple compound, one stumbles across a number of structures bearing the hallmark of different architectural dynasties. The Sankalpa mantapa in front reveals the influence of the Chalukyan style, while the Nritya mantapa or the dancing hall was added during the Hoysala period and has exquisite carving on the pillars and the ceiling. There are also beautifully carved monolithic structures, credited to Sonda rulers.