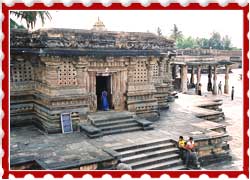 A supreme example of Hoysala temple architecture, the Chennakeshava temple in Belur, Karnataka leaves one spellbound with its exquisite structure. The temple was constructed in 1117 AD by Hoysala king Vishnuvardhan to celebrate his victory over the Cholas at the battle of Talikad. A culmination of over hundred years of painstaking craftsmanship, the Chennakeshava temple is decorated with stories from the Puranas, the Upanishads and the epics of Ramayana and the Mahabharata.
The worshipped deity of the temple is Chennakeshava or Vishnu and the sanctum contains a 2 m high Keshava image of touchstone. The star-shaped temple also has images of the 10 incarnations of Vishnu accompanied by those of his two wives- Bhu (earth) and Lakshmi (goddess of wealth). Friezes of charging elephants, mythological figures, military scenes, musicians, and elaborate decorative motifs adorn the walls of the Channakeshava temple.
A number of bracket figures portraying celestial nymphs or Madanikas singing, dancing or executing daily chores are sculpted on the walls of this temple. All these nimble figures are said to have been inspired by the sublime beauty of Shantala Devi, queen of Kind Vishnuvardhana. The winged figure of Garuda, Lord Vishnu's carrier, stands at the entrance facing the temple, palms touching in homage.