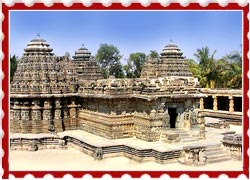 Belur, falling under the Hassan district of Karnataka, is surely a place that is worth visiting on a tour of the city. It forms a major attraction specifically for those people who are interested in exploring the rich legacy of a place, though its ancient monuments. Amongst the most visited tourist attractions of the city is the Chennakesava Temple. Apart from that, there are a number of places in and around Belur that merit a visit. To get detailed information on the tourist places in Belur, browse through the following lines.
Places to See in Belur
Chennakesava Temple
One of the most popular attractions of Belur, which people come to see from far and wide, comprises of the Chennakesava Temple. Dating back to 1117 AD, the temple was constructed by Hoysala King Vishnuvardhan, to celebrate his victory over the Cholas, at the battle of Talikad. Designed as per the Hoysala style, the temple is known for its architectural brilliance, especially the exquisite statues of princesses and gods, giant pillars, sculpture of Shantala Devi - the queen of King Vishnuvardhana and Madanikas (bracket figures).
Veeranarayana Temple
Yet another temple in Belur that is worth having a look at is the Veeranarayana Temple, which stands adorned with figures of various Hindu gods, sculpted in the most exquisite way. After you have made a tour of this temple, do not forget to visit the smaller shrines that are situated nearby, especially those of Kappe Chenningaraya, Soumyanayaki and Andal.
Hoysaleswara Temple
Hoysaleswara temple, situated in Halebidu, is a place near Belur that definitely merits a visit from you. Constructed in 1121 AD, by King Vishnuvardhana, the temple was earlier known as Dorasamudra or Dwarasamudra. Built as a rival of the Chennakesava Temple at Belur, this ancient temple is dedicated to Lord Shiva and boasts of great architecture.
Shravanabelagola
Falling under the Hassan district of Karnataka, Shravanabelagola is another place that you can visit on a trip to Belur. An important Jain pilgrimage center, it is mainly known for housing a huge statue of Bahubali, considered to be the largest monolith statue in India, located on the Vindhyagiri hill. Apart from that, the place also houses a few Jain Basadis, a Kalyani mutt and Jain mutt.
Yagachi Dam
As you move towards Chikmaglur, from Belur, hardly after a few minutes drive, you will come across Yagachi River, on which a small dam has been constructed. The backwaters of the dam, which spread over a vast area, give it a pleasant charm. The picturesque surrounds combine with a tranquil atmosphere to give this place a unique appeal.