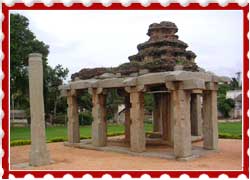 The Pattabhirama Temple is a major pilgrimage center in the ruined city of Hampi. Along with the Virupaksha and Vitthala temples, the Pattabhirama temple embodies the prolific temple-building ventures of the Vijayanagara rulers.
This presiding deity of the Pattabhi Rama temple is Lord Rama. Known for its splendid architecture, the temple complex is confined within a large rectangular enclosure. The sanctum sanctorum with its axial mantapas is situated in the centre of the courtyard. A pillared colonnade runs along the inside of the wall round the courtyard.
The east-facing sanctum is a tri-tala vimana with an antarala, ardha-mantapa and maha-mantapa. The large and square maha-mantapa is a finely proportioned seven aisled structure with tall and slender composite pillars of various types. To the east of the ardha-mantapa is the usual covered pradakshina-prakara enclosing the garbha-griha and the antarala.