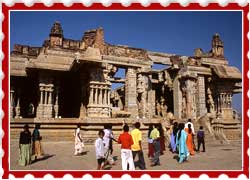 Hampi tours encompass the multitude of tourist attractions in Hampi including sacred temples, magnificent palaces and other royal structures.
Virupaksha Temple
The majestic Virupaksha temple stands proudly amidst the ruins of Hampi. While the city of Hampi was pillaged by marauding invaders, the Virupaksha temple stood erect and worship continued throughout the ages. The deity of Virupaksheshwara or Pampapathi, an incarnation of Lord Shiva, is worshipped here.
King's Balance
King's balance is a unique spot among the tours to Hampi. The King's Balance consists of two lofty carved granite pillars about 15 feet high supporting a stone beam about 12 feet, provided with three hoops on the underside. Also known as Tula Bhara or Tula Purushadana, the balance was used to weigh the kings of Vijayanagara on certain occasions like solar or lunar eclipse, New years day and coronation day against precious diamonds, gems, gold, silver, etc. and distribute them to the Brahmins.
Lotus Mahal
A synthesis of the Hindu and Muslim styles of architecture. High on aesthetics, this elegant structure has two levels, with open pavilions at the bottom and balconies above. Lotus Mahal derives its name from its beautiful, geometrically arranged cusped arches that resemble the petals of a flower opening to the sun.
Vithala Temple
Located on the southern banks of the Tungabhadra River, the Vithala temple is another imposing structure amidst the ruins. The large Ranga Mantapa of the temple has 56 musical pillars that resound with musical notes when struck. In the temple courtyard stands a magnificent stone chariot, so perfectly proportioned that the stone wheels actually rotate.